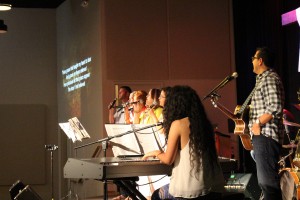 The goal of the Worship Arts Ministry at Sunrise, is to bring Glory and Honor to God through corporate worship.
If you are interested in joining the Worship Arts team, contact us at  559.686.5345 or email us at martinmora@sunrisecommunity.org
There are other opportunities to volunteer in this ministry: sound, lights, visual arts and projection. Members in this ministry rotate, allowing them to rest and spend time with family.
Joining this team is a great way to make new friends, to grow spiritually, to serve others, and to use your artistic abilities to lead others in worship to encounter God!