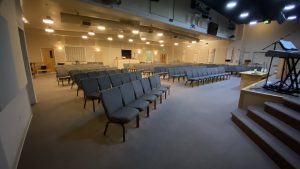 Worship Center Facelift Project
We want to give our campus a thorough makeover by adding updated lighting, fresh paint and new flooring, something we have not done since we purchased our facility thirteen years ago.
For over 20 years, Sunrise Community Church has been a small church that gives of itself in big ways to reach people of different ethnic backgrounds, both in English and Spanish. We've started a successful music school to train up hundreds of musicians, not only for our church, but for dozens of churches in our region. We've helped to start five new churches and have supplied them with both people and leaders. We've trained leaders in Latin America and have resourced new churches there. We have supported life-changing youth retreats not only in our city, but in Central America and in two Asian countries. In everything we do, our priority has been to invest in people and build them up first. In the process, our own church facilities have become worn down and out of date. We want to give our campus a thorough makeover. Our goal is for a whole new generation to experience a welcoming environment and discover abundant life in Jesus Christ.
Thank you for contributing!